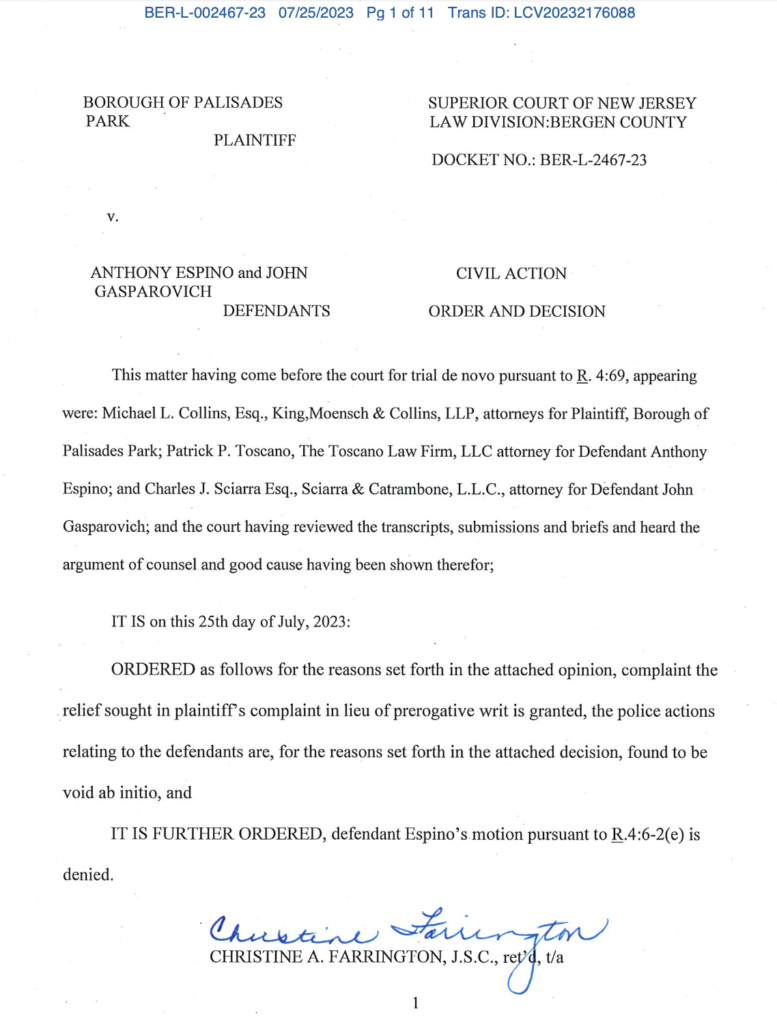 KMC serves as Borough Attorneys to the Borough of Palisades Park in 2023. Last week, KMC prevailed in litigation on the Borough's behalf invalidating certain police appointments by the former governing body.
Days before the current governing body took office, the former Mayor and Council held a meeting on December 22, 2022, with the minimum quorum of the Mayor and three councilmembers. The council proceeded to take police actions, including the appointment of a Chief of Police and Captain, on a 2-0-1 council vote with one member recused.
The new governing body directed KMC to file litigation disputing the validity of these actions. And, on July 25, 2023, state Superior Court Judge Christine A. Farrington, J.S.C., ret'd, t/a entered an order invalidating the police actions as void ab initio.
Northjersey.com wrote a long-form story on this litigation, titled "Judge overturns police chief's appointment by 'lame-duck' Palisades Park mayor. Now what?.
KMC Partner Michael L. Collins provided the newspaper with the following quote:
"Palisades Park's governing body authorized this litigation to right past wrongs and prevailed. I am pleased that Judge Farrington recognized the procedural infirmities in the former governing body's attempted police actions on Dec. 22, 2022, mere days before current officials took office, and invalidated them in a well-reasoned opinion," Borough Attorney Michael Collins said. "The governing body will review and discuss this decision at its next meeting."
The following is an excerpt of the news coverage:
"The last actions of the borough's former mayor during his "lame-duck" period last December are invalid, a judge ruled this week, leaving the embattled Police Department without a chief. The actions in question took place as Christopher Chung was serving his last days as mayor, having lost a primary bid for reelection after failing to receive the local Democratic Party's endorsement. His last actions as mayor included promoting Officer in Charge Capt. Anthony Espino to chief, after three previously failed attempts, and Sgt. John Gasparovich to captain, skipping the rank of lieutenant. Espino's promotion came after the council approved a $40,000 settlement with him in his lawsuit against the borough. … After a new mayor and members of the Borough Council were sworn in early this year, they filed a lawsuit asking a judge to review the legality of the two promotions. State Superior Court Judge Christine Farrington ruled Tuesday that the promotions are indeed void."
Following the judge's decision, the governing body voted to ratify the police actions pursuant to a valid roll call with four affirmative votes.
KMC represents both municipalities and citizens groups in prerogative writ litigation that challenges governmental actions that have been taken. If you are seeking such representation, contact Michael L. Collins, Esq. at 732-546-3670 or mcollins [at] kingmoench.com.