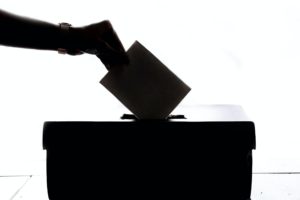 Under New Jersey law, the people of a municipality have the power to change their form of government by petition. The governing body also has the power to establish a charter study commission to investigate whether a new form of government should be adopted.
 The most common changes are brought about under the Optional Municipal Charter Law, N.J.S.A. 40:69A-1 et seq., commonly known as the Faulkner Act. The Faulkner Act sets forth four alternative forms of government that municipalities can adopt: Mayor-Council, Council-Manager, Mayor-Council-Administrator, and Small Municipality (for municipalities under 12,000 people).
If residents are interested in adopting a specific form of government under the Faulkner Act, they may circulate a petition and obtain a certain amount of signatures, which would trigger a voter referendum. The petition must have the signatures of the following percentages of registered voters:
25% in municipalities of 7,000 or less inhabitants
20% in municipalities of more than 7,000 and less than 70,000 inhabitants
10% in municipalities of 70,000 or more inhabitants.
N.J.S.A. 40:69A-19.
The petition is required to follow a specific format in order to be valid. N.J.S.A. 40:69A-14. As a result, it is important to retain counsel to review a proposed petition and ensure its validity before embarking upon the effort of obtaining numerous signatures.
Alternatively, a municipality may establish a five-member charter study commission to investigate whether a change in the form of government is warranted. A charter study commission is established by voter referendum, which is triggered by either a direct petition – with the same thresholds above applicable – or by an ordinance adopted by the current governing body. N.J.S.A. 40:69A-1.
 If the voters approve establishing a charter study commission, at the same election, five citizens are elected to serve as charter study commissioners. N.J.S.A. 40:69A-2. The charter study commissioners are sworn into office for a brief nine-month term, N.J.S.A. 40:69A-10, and they have the following duties:
"It shall be the function and duty of the charter commission to study the form of government of the municipality, to compare it with other available forms under the laws of this State, to determine whether or not in its judgment the government of the municipality could be strengthened, made more clearly responsive or accountable to the people or whether its operation could be more economical or efficient, under a changed form of government."
 A charter study commission may recommend an alternative form of government, which directly triggers a referendum on whether to adopt that form in a future special or general election. N.J.S.A. 40:69A-15.
 If you are part of a citizens group or municipality that is involved in pursuing an alternative form of government, it is important to have legal counsel that understands the process and may protect your interests. Michael L. Collins, Esq. is a municipal attorney that previously served as the Charter Study Commission Attorney in Red Bank, drafting a forty-page report that recommended a new Council-Manager form of government. Mr. Collins may be reached at 732-546-3670 or mcollins@kingmoench.com.
 The materials on this web site are for informational purposes only and not for the purpose of providing legal advice. You should contact your attorney to obtain advice with respect to any particular issue or problem. Use of and access to this Web site or any of the e-mail links contained within the site do not create an attorney-client relationship between King, Moench & Collins LLP and the user or browser.